DELIVERY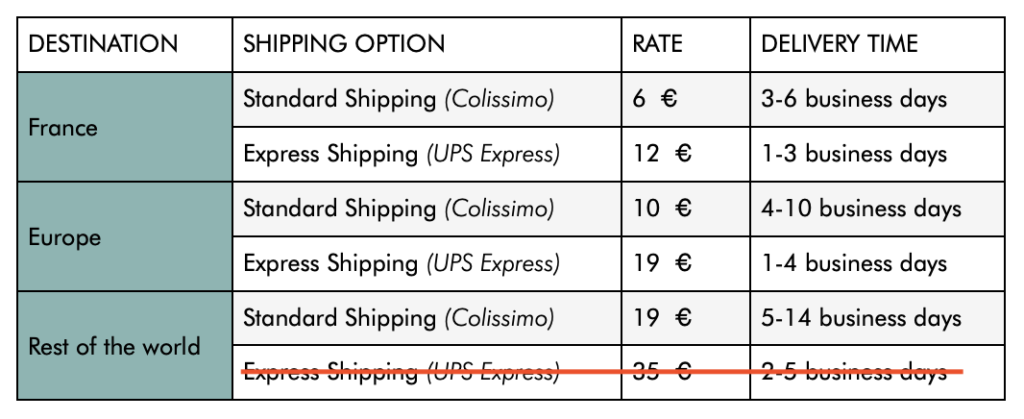 (!) Please note that express shipping is currently unavailable for orders outside of Europe. Only standard shipping is available at this time.
Items will be shipped from France within 7 business days from the date of purchase. Once your order has been shipped, you will receive an email with your tracking number. Please note that for international orders, your purchase may be subject to customs fees, duties, or taxes, which you will be responsible for paying upon receiving your order. Signature confirmation upon delivery is required. We cannot be held responsible for any shipping delays, items lost in shipment, or cases where the item has been delivered but not found by the recipient.
If you chose the Standard Shipping method, use this website to track your parcel: https://www.laposte.fr/outils/track-a-parcel. La Poste (Colissimo) is the French national postal service. Once the parcel leaves France, it'll be handled by the national postal service of the destination country. You will then need to use the website of your national postal service to get more details on your parcel's status. For example, use USPS for the United States of America, Royal Mail for the United Kingdom, China Post for China…
If you chose the Express Shipping method, the website to track your parcel will stay the same from start to finish: https://www.ups.com. As a private international shipping service, UPS acts as the customs broker to clear packages through customs departments more quickly. Thereby, this method is subject to customs duties and taxes.
We would like to inform you that each parcel we send is declared to the customs service for its actual value. This is to ensure that your package is properly insured. We take great care in ensuring that our shipments are handled with the utmost professionalism and attention to detail.
RETURN
Please keep in mind that our pieces are pre-loved and vintage, not new. Part of the beauty and charm of vintage garments is that they have lived previous lives and have stories to tell. Natural signs of wear should be expected, and we encourage you to appreciate these items for their character. Before placing an order, please make sure to read item descriptions carefully. If you have any doubts about the size or color of a piece, please don't hesitate to contact us.
If you wish to initiate a return, kindly contact us via email at contact@emerieu.com to receive the necessary return instructions.
Please be aware that all returns must be made within 14 days from the date of purchase. Refunds are not accepted. Instead, we will provide a store credit in the form of a code, which you can use for future purchases.
To be eligible for a return, the item must be in its original condition, with all accessories and labels intact. Once we receive the returned product, we will carefully inspect it to ensure it has not been worn and that any defects match those present in the original item.
We would like to inform you that as part of our efforts to ensure the quality and condition of the products we sell, we have implemented a new measure. We now record a video of each clothing item during the packing process before shipping them out to our customers. This step ensures that the condition of the clothing item is accurately represented at the time of sale. It also allows us to verify the condition of the item in case of any disputes regarding the item's condition upon receipt by the customer. We appreciate your understanding and cooperation with this process.
Upon approval of the return, we will promptly issue the store credit code, which remains valid for one year from the date of issuance. Please note that the store credit does not include the amount of the initial shipping charges incurred during the first purchase. Please refer to our Terms for additional information. If you have any questions or concerns, please do not hesitate to contact us.