LOLITA LEMPICKA 2001 Fairy Wedding Dress (XS)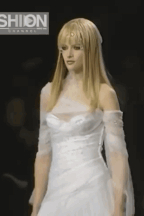 BRAND: LOLITA LEMPICKA, by Josiane Maryse Pividal.
COLLECTION: Fall Winter 2003. This dress is the "original" one that was seen on the runway. It is fully handmade and comes right from a fairytale!
SIZE: Best fits size XS.
Chest: 85cm (33.5″)
Bust: 70cm (27.5″)
Waist: 65cm (25.6)
Length: 160cm (63″)
Train length from the hips: 190cm (74.8″)
COMPOSITION: The fabric is a combination of tulle and silk.
MADE IN: France
FEATURES:
Asymmetrical cut

 

Asymmetrical sleeves (The right sleeve is knotted near the elbow. The left sleeve has a cape shape.)
Sheath cut
Heart shape neckline
Corset boning
Four layers of veil, two of them are longer at the bottom, creating a train effect.
Side zip closure.
No composition or size label.
CONDITION: Very good condition, minor signs of wear. The dress was entirely cleaned but there is still a few shadows left on the armpits (almost invisible), please refer to "First flaw" picture. Some parts of the bottom of the veil were damaged, a few stitches had to be done but you cannot really see it. Also, a few strass are missing but there are so many that you cannot tell the difference.
* Please refer to what is written and not to the pictures for the measurements. Also, color of product may slightly vary compared to pictures due to lighting and screen color calibration. Please refer to our terms before buying.
Shipped with DHL Express (1-3 days)
Please contact me before placing the order.
Sold Out