ELIE SAAB 2014 Haute Couture Violet Silk Gown (S)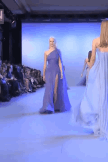 Breathtaking ELIE SAAB Haute Couture violet gown from the 2014 spring summer collection, considered one of the best Elie Saab line. Seen on Jessica Chastain at the Festival de Cannes 2014. This dress was limited to less than a hundred units in the world. It is fully handmade.
Original Retail Price: 10500€.
Asymmetrical cut.
100% silk fabric, pleated on the bust and the waist. Fully lined.
Two capes on the left shoulder, one goes in front and the other behind.
A long train in the back that starts from the waist.
A high slit on the left leg and cross back side.
A small purple leather belt with a golden buckle. The name "Elie Saab" is inscribed inside.
A side back zip closure.
A tie with hooks closure inside to secure the dress.
No composition or size label because it comes from a Haute Couture collection.
Best fits size S.
Chest: 90cm (35.5″)
Bust: 76cm (30″)
Waist: 68cm (26.7)
Length: 150cm (59″)
Train length from the waist: 140cm (55″)
Belt length: 85cm (min/max: 68-76cm)
Very good condition, minor signs of wear:
Two threads pulled on the front of the dress, please refer to "First flaw" pictures. A tiny part of the cape slightly damaged (diameter: 0.5cm ), please refer to "Second flaw" pictures. A few salt stains on the inside of the dress, on the chest and armpits (invisible from the outside), please refer to "Third flaw" pictures.
Found in Paris, France.
* Please refer to what is written and not to the pictures for the measurements. Also, color of product may slightly vary compared to pictures due to lighting and screen color calibration. Please refer to our terms before buying.
Shipped with DHL Express (1-3 days)
Please contact me before placing the order.
Sold Out
Out of stock